Journal Syifa Sciences & Clinical Research (JSSCR) established 2019, is a biannual journal, open acces, peer-reviewed and online national pharmacy journal. JSSCR a national journal intended as a communication forum for scientists from many practitioners who use Pharmacology Development in research. JSSCR is indexed in Google Scholar, Index Copernicus, DRJI, International Journal Impact Factor, Garuda and being processed to be indexed  SINTA.
The scope of the articles published in this journal deal with a broad range of topics, including Pharmaceutical Technology and Pharmaceutics, Pharmaceutical Analysis, Medicinal Chemistry, Pharmacology and Toxicology, Pharmaceutical Biology, Community Pharmacy, and Clinical Pharmacy.
Announcements
CALL OF PAPERS 2019 : VOL 1 NO 2

We are call for pratictioner, researcher, lecturer to publish your originally research or articles reviewed to be publish in Journal Syifa Sciences & Clinical Research (JSSCR) for Volume 1 No. 2 September 2019

Submit Deadline on: August, 2019

Posted: 2019-04-26
Vol 1, No 1 (2019): March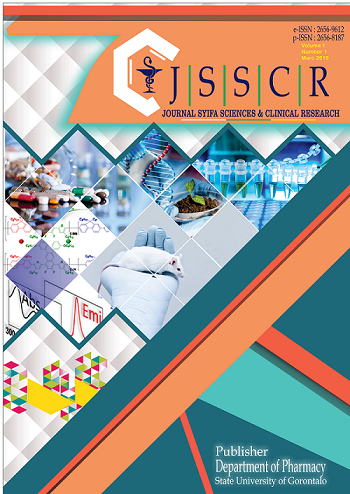 Journal Syifa Sciences and Clinical Research (JSSCR) Volume 1 Number 1 Year 2019 (March 2019) has been officially published. This issue contains 5 articles available online.
Table of Contents
Articles
| | | |
| --- | --- | --- |
| | Juliyanty Akuba,M.Sc.,Apt, Nurain Thomas, Rendy Dwy Jayanto Palay | 1-7 |
| | | |
| --- | --- | --- |
| | Endah Djuwarno, Widysusanty Abdulkadir | 8-13 |
| | | |
| --- | --- | --- |
| | Muhammad Taupik, M.Sc, Muhammad Adam Mustapa | 14-20 |
| | | |
| --- | --- | --- |
| | Mohammad Adam Mustapa,M.Sc, Muhammad Taupik, Aditya Ramadhan L | 21-27 |
| | | |
| --- | --- | --- |
| | Mahdalena Sy. Pakaya, M.Si.,Apt, Nurain Thomas, Pinkan Arista Idris | 28-36 |