Jambura Equilibrium Journal
Jambura Equilibrium Journal is a peer-reviewed journal published by Department of Economic Development, Economic Faculty, Universitas Negeri Gorontalo twice a year in January and July. The objective of this journal is to provide a venue for academicians, researchers and practitioners in publishing research articles. The scope of the articles published in this journal deal with broad range of topics, including Economic Development, Regional Development Planning, Public Finance, Economic of Small and Medium Enterprises, Financial and Monetary Policy, Project Evaluation, and Modelling and Econometrics.
P-ISSN (2655-9110) E-ISSN (2656-0445)
ACCREDITED by Ministry of Research and Technology/National Research and Innovation Agency of the Republic of Indonesia, No 200/M/KPT/2020, December 23, 2020. Validity period of accreditation from volume 2 number 1 year 2020 to volume 7 number 1 year 2025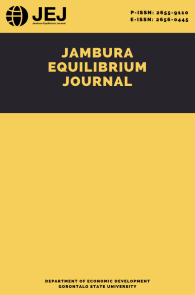 Announcements
No announcements have been published.
Vol 5, No 1 (2023): Vol 5. No. 1. January 2023
Table of Contents
Articles