Journal Health and Sciences is a health scientific journal which published original articles of public health. This articles Published four times a year January, April and October. Which Focus and Scope in public health issues, including : Epidemiology, Health Education and Promotion, Environmental Health, Occupational Health and Safety, Health Administration and Policy, Biostatistics, Reproductive Health, Hospital Management, Nutrition Science, Health Information System. Moreover, Author can submit articles on any issue relating to public health with editor consideration. the Aims of this journal is to provide a venue for academicians, researvhers and practitioners for publishing the original research articles or review articles. the scope of the articles published in this journal deal with a broad range of topics, including :
Epidemiology
Health Education and Promotion
Environmental Health
Occupational Health and Safety
Health Administration and Policy
Biostatistics
Reproductive Health
Hospital Management
Nutrition Science
Health Information System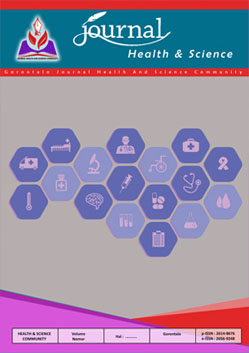 Journal Health & Science, Gorontalo Journal health and Science community
by
gojhes
is licensed under a
Creative Commons Attribution 4.0 International License
.
Based on a work at
https://ejurnal.ung.ac.id/index.php/gojhes
.
Permissions beyond the scope of this license may be available at
https://ejurnal.ung.ac.id/index.php/gojhes
.
Announcements
Call for Papers !!

Posted: 2023-08-10

A new Milestone for Journal Health & Science : Gorontalo Journal Health and Science Community

 

The board of editors thank to all Honorable Reviewers, Authors, Readers, Journal Health & Science : Gorontalo Journal Health and Science Community and the Indonesian government who have contributed a lot to the achievement of the inclusion of Journal Health & Science : Gorontalo Journal Health and Science Community to Sinta 5

 

Posted: 2021-01-30
Vol 7, No 4 (2023): OKTOBER: JOURNAL HEALTH AND SCIENCE : GORONTALO JOURNAL HEALTH AND SCIENCE COMMUNITY
Table of Contents
Articles