Journal title

Abbreviation

Frequency

Publication Language

Online ISSN

Editor-in-Chief

Publisher

: Jurnal Pengabdian Kesehatan Masyarakat 

: JPKM

: Biannual (Mei and November)

: English (preferable), Indonesia

: Program Studi Kesehatan Masyarakat, Universitas Negeri Gorontalo, Indonesia
Jurnal Pengabdian Kesehatan Masyarakat is a health scientific journal which published original articles of public health. This articles Published Twice a year in Mei and November. Which Focus and Scope in public health issues, including : Epidemiology, Health Education and Promotion, Environmental Health, Occupational Health and Safety, Health Administration and Policy, Biostatistics, Reproductive Health, Hospital Management, Nutrition Science, Health Information System. Moreover, Author can submit articles on any issue relating to public health with editor consideration. the Aims of this journal is to provide a venue for academicians, researvhers and practitioners for publishing the original research articles or review articles. the scope of the articles published in this journal deal with a broad range of topics.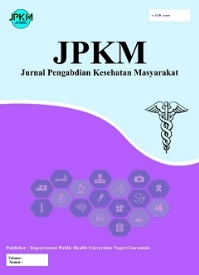 Announcements
CALL FOR PAPERS

Posted: 2023-06-24