Welcome to the Jambura Nursing Journal
Jambura Nursing Journal (JNJ) are a journal of scientific publications published every six months (quarterly) using a peer review system for article selection. JNJ intended for practitioners, academics, professionals, students or among the general public who are involved and interested in the development of Health and Nursing Science. It can receive relevant articles in the field of health and nursing, which includes research articles.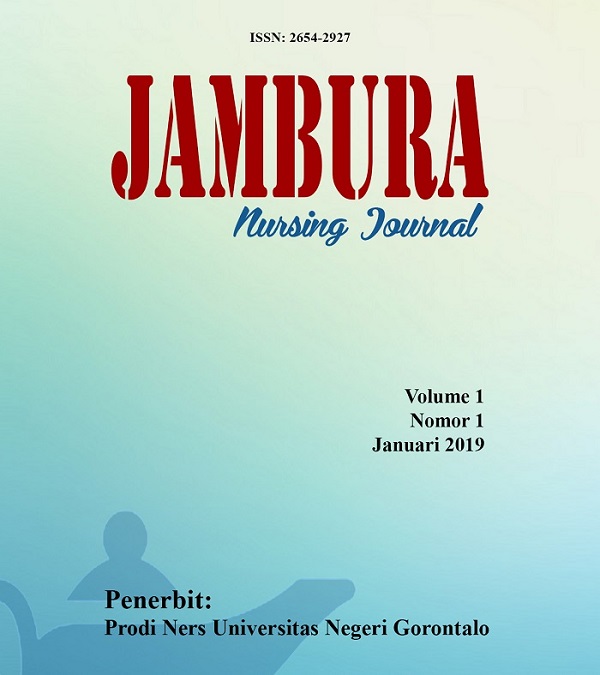 This Journal was released in 2019 by Department of Nursing, Faculty of Sport & Health, Gorontalo State University.

The Jambura Nursing Journal (JNJ) provides an open access facility for article content that is published with the principle of making research available for free to the public in order to support global scientific exchange. The scope of the articles published in this journal deal with a broad range of topics, including: Nursing Basic, Management Nursing, Nursing Medicals Surgery, Nursing Critical, Nursing Community, Nursing Psych, Nursing Geriatric, Nursing Family, Nursing Maternity, Health Women, Nursing Children, Education in Nursing, Midwifery, Psychology, Promotion Health, Health Work

p-ISSN: 2654-2927

Download: Template JNJ
Announcements
No announcements have been published.
Vol 1, No 1 (2019): Vol 1, No 1 (2019): Januari 2019
Table of Contents
Jambura Nursing Journal
Contact Us: Gusti Pandi Liputo | Email: gusti@ung.ac.id | Phone Number: +6285240306708 | WhatsApp: 085240306708