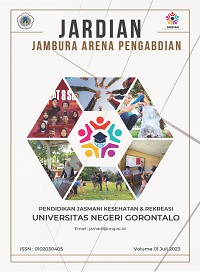 Journal Title
:

Jambura Arena Pengabdian

Initials
: JARDIAN
Abbreviation
: JARDIAN
Frequency
: Biannual (June and December) more info
DOI
: -

Print ISSN
: XXXX-XXXX
Online ISSN
: 3024-9759
Editor-in-Chief
: Ella H Tumaloto
Managing Editor
: Al Ilham
Publisher
: Physical Education, Healt and Recreation Program, Universitas Negeri Gorontalo
Language
: English (preferable), Indonesia
Citation Analysis
: Google Scholar
Preservation Archiving
: PKP PN | more info
Jambura Arena Perngabdian (JARDIAN, P-ISSN: xxxx-xxxx, E-ISSN: xxxx-xxxx) is a peer-reviewed journal published by 

Physical Education, Healt and Recreation Program

, Universitas Negeri Gorontalo. JARDIAN provides open access to the principle that research published in this journal is freely available to the public to support the exchange of knowledge globally. JARDIAN published two-issue articles per year namely June and December. JARDIAN provides a place for academics, researchers, and practitioners to publish scientific articles. Each text sent to JARDIAN editor is reviewed by peer review. Starting from Vol. 1 No. 1 (June 2023), all manuscripts sent to the JARDIAN editor are accepted in Bahasa Indonesia or English. The scope of the articles listed in this journal relates to various topics, including education for Sustainable Development, Community Services, People, Local Food Security, Nutrition and Public Health, Training, Marketing, Appropriate Technology, Design, Community Empowerment, Social Access, Student Community Services, Border Region, Less Developed Region. This journal is available in print and online and highly respects the ethics of publication and avoids all types of plagiarism. JARDIAN has been identified in crossref with a DOI number: -.

Announcements
No announcements have been published.
Vol 1, No 1: June 2023
Table of Contents
Articles
Sosialisasi Permainan Outbond Pada Pengunjung Wisata Botumotolioluwo Desa Longalo Kecamatan Bulango Utara

DOI : 10.37311/jardian.v1i1.21194

|

Abstract views : 53 times

Juni Isnanto, Universitas Negeri Gorontalo, Indonesia
Muhammad Faisal Lutfi Amri, Universitas Negeri Gorontalo, Indonesia
Risna Podungge, Universitas Negeri Gorontalo, Indonesia
Al Ilham, Universitas Negeri Gorontalo, Indonesia
Sulasikin Sahdi Kadir, Universitas Negeri Gorontalo, Indonesia
Haerul Ikhsan, Universitas Negeri Gorontalo, Indonesia
Asry Syam, Universitas Negeri Gorontalo, Indonesia


7-13
Sosialisasi Penggunaan Kunyit Sebagai Bahan Uji Deteksi Borak Di Desa Padang Kuas

DOI : 10.37311/jardian.v1i1.21456

|

Abstract views : 101 times

Zahara Indah, Fakultas Keguruan dan Ilmu Pendidikan, Universitas Bengkulu, Indonesia
Syafryadin Syafryadin, Fakultas Keguruan dan Ilmu Pendidikan, Universitas Bengkulu, Indonesia
M. Iqbal Liayong Pratama, Fakultas Matematika dan Ilmu Pengetahuan Alam, Universitas Negeri Gorontalo, Indonesia
Ramla Hartini Melo, Fakultas Matematika dan Ilmu Pengetahuan Alam, Universitas Negeri Gorontalo, Indonesia


36-42