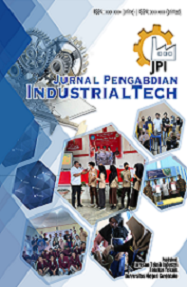 Journal Title
: 

Jurnal Pengabdian Teknik Industri

Initials
: JPTI
Abbreviation
: Jurnal Pengabdian 

Teknik Industri

Frequency
: Biannual (May and November) | more info
DOI
: prefix 10.34312

Print ISSN
: 

2987-2111

Online ISSN
: 2987-0275
Editor-in-Chief
: Esta Larosa
Managing Editor
: Sugeng Pramudibyo, Abdul Rasyid
Publisher
: Department of Industrial Engineering
Language
: English (preferable), Indonesia
Citation Analysis
: Google Scholar
Preservation Archiving
: PKP PN | more info
JPTI: Jurnal Pengabdian 

Teknik Industri

(JPTI, P-ISSN: 
2987-2111 E-ISSN: 2987-0275) is a peer-reviewed journal published by Department of Industrial Engineering, Universitas Negeri Gorontalo. JPTI provides open access to the principle that research published in this journal is freely available to the public to support the exchange of knowledge globally.JPTI published two-issue articles per year namely May and November. JPTI provides a place for academics, researchers, and practitioners to publish scientific articles. Each text sent to JPTI editor is reviewed by peer review. Starting from Vol. 1 No. 1 (November 2022), all manuscripts sent to the JPI editor are accepted in Bahasa Indonesia or English. The scope of the articles listed in this journal relates to various topics, Education, Engineering and Vocational, Mechanical Engineering, Automotive Engineering, Industrial Engineering, Industrial Engineering Technology, Innovation and Transformation, Product Development and Industrial Design, Industrial Management, Technical and Vocational Education. This journal is available in print and online and highly respects the ethics of publication and avoids all types of plagiarism. JPTI has been identified in crossref with a DOI number: xx.xxxx.


Announcements
No announcements have been published.
Vol 2, No 2: November 2023
Table of Contents
Articles
PEMBERDAYAAN MASYARAKAT PESISIR BERBASIS TECHNOPRENEURSHIP PADA KAWASAN TELUK TOMINI DI DESA MUARA BONE

DOI : 10.37905/jpti.v2i2.22923

|

Abstract views : 19 times

Abdul Rasyid, Universitas Negeri Gorontalo,
Stella Junus, Universitas Negeri Gorontalo, Indonesia
Monica Pratiwi, Universitas Negeri Gorontalo, Indonesia
Sugeng Pramudibyo, Universitas Negeri Gorontalo, Indonesia
Esta Larosa, Universitas Negeri Gorontalo, Indonesia


50-57
Pemberdayaan Masyarakat Pesisir Dalam Pengembangan Inovasi Produk ABG Ikan Bandeng Dan Garam Untuk Mendukung Ekonomi Maritim Desa Siduwonge

DOI : 10.37905/jpti.v2i2.22989

|

Abstract views : 20 times

Hasanuddin Hasanuddin, Universitas Negeri Gorontalo, Indonesia
Sugeng Pramudibyo, Universitas Negeri Gorontalo, Indonesia
Sunardi Sunardi, Universitas Negeri Gorontalo, Indonesia
Buyung R Mahmoed, Universitas Negeri Gorontalo, Indonesia
Syarifuddin Syarifuddin, Universitas Negeri Gorontalo, Indonesia


58-63
UPAYA MENINGKATKAN KESEJAHTERAAN MASYARAKAT NELAYAN PESISIR DESA LOPO MELALUI PENGEMBANGAN BENGKEL JASA REPARASI MESIN KETINTING

DOI : 10.37905/jpti.v2i2.22775

|

Abstract views : 20 times

Hendra Uloli, Universitas Negeri Gorontalo,
Muhammad Yasser Arafat, Universitas Negeri Gorontalo, Indonesia
Esta Larosa, Sinta : 6793239, SCOPUS: 57223236912, Universitas Negeri Gorontalo, Indonesia
Monica Pratiwi, Universitas Negeri Gorontalo, Indonesia
Sugeng Pramudibyo, Universitas Negeri Gorontalo, Indonesia


64-71