---
Jambura Journal of Biomathematics (JJBM) aims to become the leading journal in Southeast Asia in presenting original research articles and review papers about mathematical approach to explain biological phenomena. JJBM will accept high-quality article utilizing mathematical analysis to gain biological understanding in the fields of, but not restriced to :
---
Ecology
Oncology
Neurobiology
Cell biology
Biostatistic
Bioinformatics
Bio-engineering
Infectious diseases
Renewable biological resource
Genetics and population genetics
---
---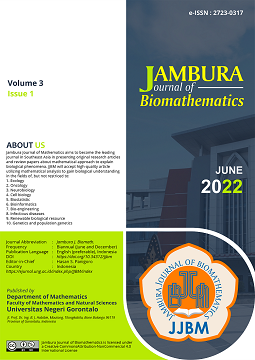 Announcements
ACCREDITATION

Jambura Journal of Biomathematics is classified into national's 2nd highest cluster for reputable journal in Indonesia by the Ministry of Education and Culture, Research and Technology of the Republic of Indonesia, No. 204/E/KPT/2022, Started from Vol. 1 No. 1 2020 Until Vol. 5 No. 2 2024.
Posted: 2022-12-13
More...

CALL FOR REVIEWER

Serving as an editorial member or a reviewer for a scholarly journal is a key step in career progression. We invite experts with relevant areas of expertise to join as Partners of the Jambura Journal of Biomathematics. Click the following link

Posted: 2022-07-05

New Face of JJBM

We announce that from Volume 3 Issue 1, the cover and final template for the paper are replaced to improve the quality of our Journal from the point of view of design, appearance, and comfortable in reading.

 

Regards,

Editor in Chief

Jambura Journal of Biomathematics

Universitas Negeri Gorontalo

Posted: 2022-06-28
More...
Volume 4, Issue 1: June 2023
Jambura Journal of Biomathematics (JJBM) Volume 4 Issue 1 (June 2023) has been officially published. This issue contains 12 articles available online that were authored by 38 authors from 10 affiliations and 3 Countries (Indonesia, Nigeria, and Philippines).
Table of Contents
Articles
Mathematical Analysis of Sensitive Parameters on the Dynamical Transmission of HIV-Malaria Co-infection

DOI : 10.34312/jjbm.v4i1.18972

|

Abstract views : 194 times

Asimiyu Olalekan Oladapo, Osun State University, Nigeria
Morufu Oyedunsi Olayiwola, Osun State University, Nigeria
Kamilu Adewale Adedokun, Osun State University, Nigeria
Adedapo Ismaila Adedapo, Osun State University, Nigeria
Joseph Adeleke Adedeji, Osun State University, Nigeria
Kareem Oyeleye Kabiru, Osun State University, Nigeria
Akeem Olanrewaju Yunus, Osun State University, Nigeria


37-45