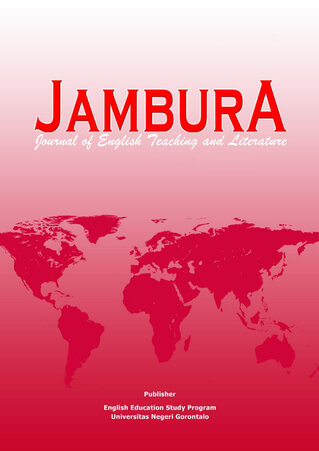 Jambura Journal of English Teaching and Literature is a peer-reviewed journal published by the English Education Study Program, Faculty of Letters and Culture, Universitas Negeri Gorontalo, Indonesia. E-ISSN 2722-4880. It is published twice a year in April and October, with submissions accepted throughout the year. The journal seeks to provide established and early-career researchers, teachers and academia with a platform to publish research-based papers from the fields of English language teaching and literature. JJETL welcomes current analysis on: English language teaching and learning; English language testing and assessment; Curriculum design and development in ELT; Applied linguistics; Literary studies; and Translation studies.
Announcements
Call for Paper - Vol. 3 No. 2 October 2022

Deadline for paper submission is 30 September 2022. Please submit your manuscript via our OJS system. Prior to submission, please register and download our journal article template.
Posted: 2022-09-21
More...
Vol 3, No 2 (2022): Jambura Journal of English Teaching and Literature
Table of Contents
Articles