---
---
Jambura Journal of Informatics (JJi) is a peer-reviewed journal published by the Department of Informatics Engineering, Universitas Negeri Gorontalo. JJi is a scientific journal of informatics which includes scholarly writings on pure research and applied research as well as a review-general review of the development of the theory, methods, and related applied sciences. The scope of the articles published in this journal deal with a broad range of informatics topics, including:
Computer Science
Information System
Software Engineering
Information Technology
Information Technology Education
---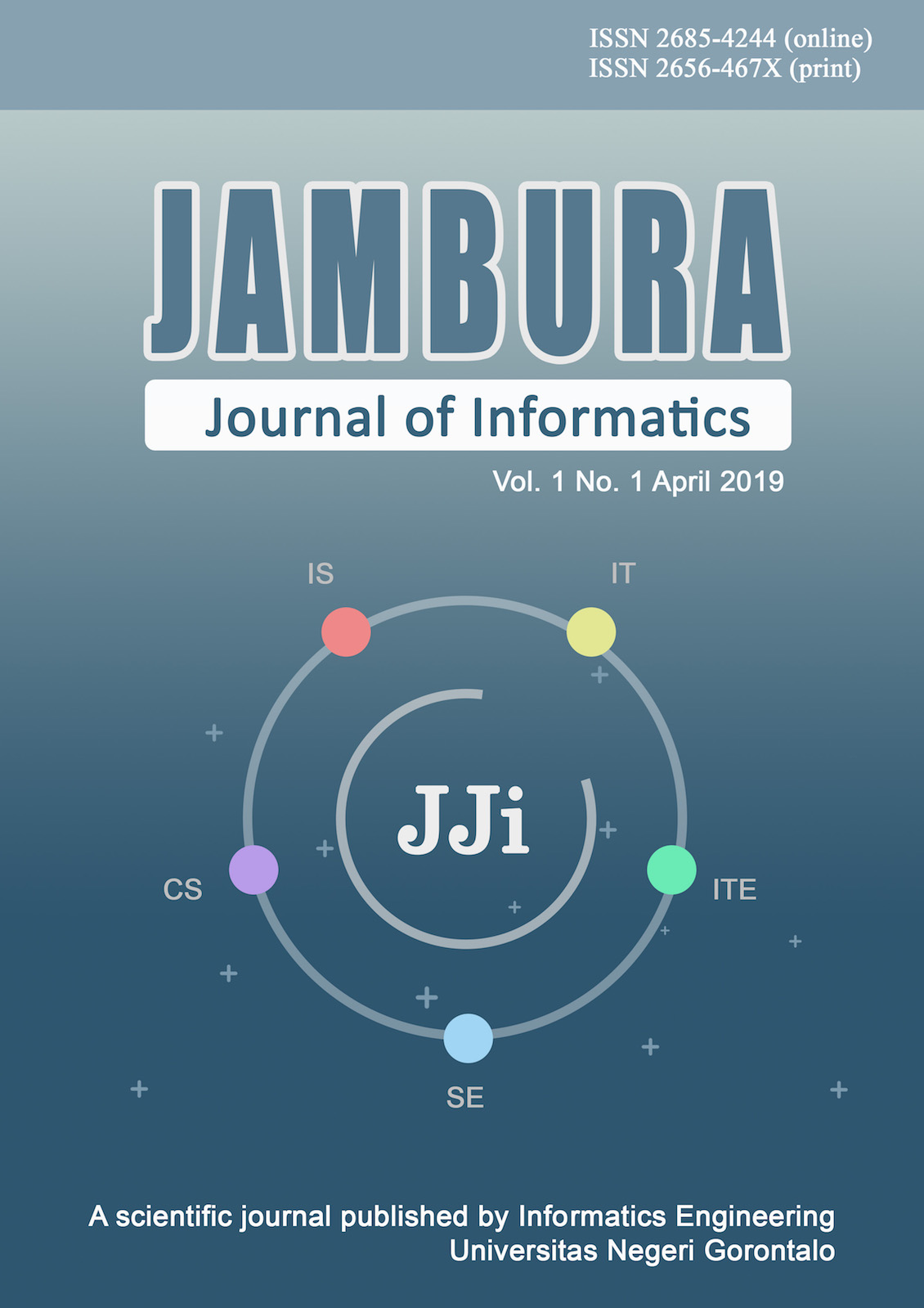 Announcements
JJI: Call for Paper

We invite you to submit your paper to Jambura Journal of Informatics (JJi) as an issue:
Vol. 5, No. 2, October 2023

Submit your manuscripts today! (in Indonesia or English) through our online system
The authors should refer to the Jambura Journal of Informatics (JJi) journal for writing format and style. Submitted papers are evaluated by anonymous referees for contribution, originality, relevance, and presentation. The Editor shall inform you of the results of the review as soon as possible, hopefully in 2-4 weeks.
Posted: 2022-12-30

JJI: Accreditation

Since April 2019, the journal has been ACCREDITATED with grade "SINTA 4" by the Ministry of Research and Technology/National Research and Innovation Agency of Republic Indonesia (Kemenristek BRIN RI) of The Republic of Indonesia as an achievement for the peer-reviewed journal which has excellent quality in management and publication. The recognition published in Director Decree 0010/E5/K1.02.04/2022 December 30, 2020 effective until 2023. The JJi journal accreditation certificate can be downloaded here.
Posted: 2022-12-28
More...
VOL 5, NO 1: APRIL 2023
Table of Contents
Artikel