---
Euler : Jurnal Ilmiah Matematika, Sains dan Teknologi is a national journal intended as a communication forum for mathematicians and other scientists from many practitioners who use mathematics in the research. Euler disseminates new research results in all areas of mathematics and their applications. Besides research articles, the journal also receives survey papers that stimulate research in mathematics and its applications. The scope of the articles published in this journal deal with a broad range of mathematics topics, including:
---
Mathematics
Applied Mathematics
Statistics and Probability
Applied Statistics
Mathematics Education
Mathematics Learning
Computational Mathematics
Science and Technology
Computer Science
Artificial Intelegence
Optimization
---
Journal Title


Journal Abbreviation 
Frequency
Publication Language
DOI 
E-ISSN
Editor-in-Chief
Publisher
Country
:   Euler : Jurnal Ilmiah Matematika, Sains dan Teknologi
:   Euler J. Ilm. Mat. Sains dan Teknol.
:   Biannual (June and December)
:   English (preferable), Indonesia
:   https://doi.org/10.34312/euler
:   2776-3706
:   Resmawan
:   Department of Mathematics, Universitas Negeri Gorontalo
:   Indonesia

 
---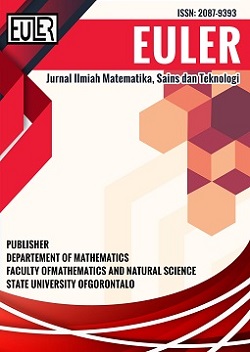 Announcements
CALL FOR REVIEWER

Serving as an editorial member or a reviewer for a scholarly journal is a key step in career progression. We invite experts with relevant areas of expertise to join as Partners of the Jambura Journal of Mathematics. Click the following link

Posted: 2022-07-05

ACCREDITATION

EULER is classified into the nation's 4th highest cluster for reputable journal in Indonesia by the Ministry of Education and Culture, Research and Technology of the Republic of Indonesia, No. 

164/E/KPT/2021

, Started from Vol. 7 No. 2 2019 Until Vol. 12 No. 1 2024.
Posted: 2022-01-20
More...

CALL FOR PAPER 2023

Dear,

Lecturer, Researcher, Teacher, etc

We invite you to publish the results of research and development Mathematics, Applied Mathematics, Statistics, and Mathematics Education in Euler: Jurnal Ilmiah Matematika, Sains, dan Teknologi. 

Submit Your Manuscript Before:

15 April 2023: Volume 11 Issue 1, June 2023
15 October 2023: Volume 11 Issue 2, December 2023




Posted: 2021-07-17
EULER: Volume 10 Issue 2 December 2022
Articles in Progress...
Table of Contents
Articles