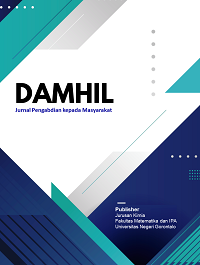 Journal Title
: Damhil: Jurnal Pengabdian kepada Masyarakat
Initials
: DJPkm
Abbreviation
: Damhil J. Pengabdi. Masy.
Frequency
: Biannual (June and December) | more info
DOI
: prefix 

10.34312  

 

Print ISSN
: -
Online ISSN
: 2962-2875
Editor-in-Chief
: Astin Lukum
Managing Editor
: Kostiawan Sukamto
Publisher
: Department of Chemistry, Universitas Negeri Gorontalo
Language
: Indonesia
Citation Analysis
: Google Scholar
Preservation Archiving

:

PKP PN

|

more info
Damhil: Jurnal Pengabdian kepada Masyarakat (
DJPkm
, E-ISSN:2962-2875) is a peer-reviewed journal published by the Department of Chemistry, Universitas Negeri Gorontalo.
DJPkM
 provides open access to the principle that research published in this journal is freely available to the public to support the exchange of knowledge globally.
DJPkM 
published
two-issue articles per year namely in June and December
.
DJPkM
 provides a place for academics, researchers, and practitioners to publish scientific articles. Each text sent to
DJPkM
 editor is reviewed by peer review. Starting from Vol. 1 No. 1 (June 2022), all manuscripts sent to the
DJPkM
 editor are accepted in Bahasa Indonesia
or English
. The scope of the articles listed in this journal relates to various topics, including
(1) 
Education for Sustainable Development, 
(2) Community Services, Local Food Security, Nutrition and Public Health
, (3) Training, Marketing, Appropriate Technology, Design
, (4) Community Empowerment, Social Access
, (5) Student Community Services
, and (6) Border Region, Less Developed Region
. This journal is available in print and online and highly respects the ethics of publication and avoids all types of plagiarism.

Announcements
No announcements have been published.
Vol 2, No 1: June 2023
Table of Contents
Articles
Sosialisasi Peran Aparat Desa Buncitan dalam Penyelenggaraan Penataan Ruang Sidoarjo

DOI : 10.34312/damhil.v2i1.19206

|

Abstract views : 55 times

Linda Dwi Rohmadiani, Universitas PGRI Adi Buana Surabaya, Indonesia
Suning Suning, Universitas PGRI Adi Buana Surabaya, Indonesia
Anak Agung Sagung Alit Widyastuty, Universitas PGRI Adi Buana Surabaya,
Moch Shofwan, Universitas PGRI Adi Buana Surabaya,
Siti Nuurlaily Rukmana, Universitas PGRI Adi Buana Surabaya,
Annisa Budhiyani Tribhuwaneswari, Universitas PGRI Adi Buana Surabaya,


1-7
Pelatihan Pembuatan Pestisida Nabati Sebagai Alternatif Pengendalian Serangga Hama Tanaman Pada Petani Sayur di Desa Bulotalangi Timur

DOI : 10.34312/damhil.v2i1.20825

|

Abstract views : 44 times

Nurhayati Bialangi, Universitas Negeri Gorontalo, Indonesia
Erni Mohamad, Universitas Negeri Gorontalo, Indonesia
Mangara Sihaloho, Universitas Negeri Gorontalo, Indonesia
Ahmad Kadir Kilo, [SINTA ID: 6656548] Department of Chemistry, Universitas Negeri Gorontalo, Indonesia
Julhim S Tangio, Department of Chemistry, Universitas Negeri Gorontalo, Indonesia


8-15
Sosialisasi Pemanfaatan Ikan Laut sebagai Sumber Pangan Kaya Nutrisi di Desa Bilungala, Kecamatan Bonepantai, Kabupaten Bone Bolango

DOI : 10.34312/damhil.v2i1.17811

|

Abstract views : 63 times

Nurul Fajryani Usman, Biology Department, Faculty of Mathematics and Natural Science, Gorontalo State University,
Devi Bunga Pagalla, Biology Department, Faculty of Mathematics and Natural Science, Gorontalo State University,
Magfirahtul Jannah, Biology Department, Faculty of Mathematics and Natural Science, Gorontalo State University,
Nurhayati Nurhayati, Physics Department, Faculty of Mathematics and Natural Science, Gorontalo State University,


30-36
Mengenalkan Sains dan Teknologi untuk Siswa Usia Sekolah Dasar di Kawasan Pesisir Teluk Tomini Gorontalo

DOI : 10.34312/damhil.v2i1.21341

|

Abstract views : 23 times

Lukman A.R Laliyo, Jurusan Kimia, Universitas Negeri Gorontalo, Indonesia
Thayban Thayban, Jurusan Kimia, Universitas Negeri Gorontalo,
Haris Munandar, Jurusan Kimia, Universitas Negeri Gorontalo,
Erga Kurniawati, Jurusan Kimia, Universitas Negeri Gorontalo,
Citra Panigoro,
Kostiawan Sukamto, Jurusan Kimia, Universitas Negeri Gorontalo, Indonesia


37-42