Jambura Economic Education Journal
Jambura Economic Education Journal (E-ISSN: 2656-4378)(P-ISSN: 2655-5689) is a blind peer-reviewed and open access journal published twice a year (January and July).
The Jambura  Economic Education Journal aims to help researchers, students and lecturers publish their works for public audiences and find new connections. The Jambura Economic Education Journal considers original research articles and reviews articles in the field of research on
Micro Small and Medium Enterprises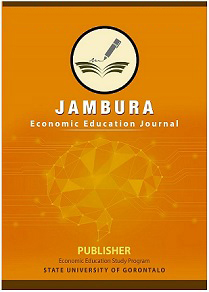 ACCREDITATION
Jambura Economic Education Journal Classified into The 4th Ranked Accredited Cluster for Reputable National Journals in Indonesia By The Ministry of Research and Technology Republic of Indonesia, No.  200/M/KPT/2020, Starting from Vol.  1 No.1 Janury 2019 Up Vol.  5 No.2 July 2023.
Publisher By: Economic Education Program, Universitas Negeri Gorontalo, Jenderal Sudirman No.6 Kota Gorontalo Provinsi Gorontalo » Tel / fax : (0435)821125 / (0435)821752 Web Site: http://ejurnal.ung.ac.id/index.php/jej/index
Announcements
No announcements have been published.
Vol 5, No 2 (2023): JULY 2023
Table of Contents
Articles