Jambura Economic Education Journal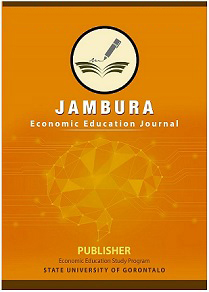 Jambura Economic Education Journal (E-ISSN: 2656-4378)(P-ISSN: 2655-5689) is a blind peer-reviewed and open access journal published twice a year (January and July).
The Jambura  Economic Education Journal aims to help researchers, students and lecturers publish their works for public audiences and find new connections. The Jambura Economic Education Journal considers original research articles and reviews articles in the field of research on Teachers, Learning, Economic Education, Economics and Entrepreneurship.
Editor Team Address: Jambura Economic Education Program, Gorontalo State University, Jenderal Sudirman No.6 Kota Gorontalo Provinsi Gorontalo » Tel / fax : (0435)821125 / (0435)821752 Web Site: http://ejurnal.ung.ac.id/index.php/jej/index
Announcements
No announcements have been published.
Vol 4, No 2 (2022): JULY 2022
Table of Contents
Articles