Selamat datang di website Jurnal Elektronik Universitas Negeri Gorontalo. Universitas Negeri Gorontalo saat ini memiliki jurnal yang telah terakreditasi dan terindeks di database SINTA, Kementerian Pendidikan Kebudayaan, Riset dan Teknologi RI. List Jurnal UNG terindeks SINTA.
---
JURNAL TERINDEKS DOAJ
---
---
JURNAL TERINDEKS SINTA 2
---
---
JURNAL TERINDEKS SINTA 3
---
---
JURNAL TERINDEKS SINTA 4
---
---
JURNAL TERINDEKS SINTA 5
---
---
SEMUA JURNAL TERBITAN UNIVERSITAS NEGERI GORONTALO
---
A B C D E F G H I J K L M N O P Q R S T U V W X Y Z All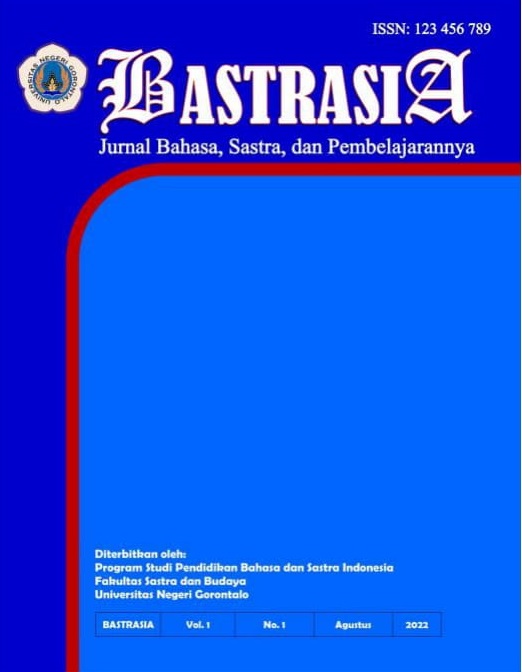 BASTRASIA: Jurnal Bahasa, Sastra, dan Pembelajarannya
"BASTRASIA" journal aims to provide a venue for academicians, researchers, and practitioners for publishing the original research articles or reviewed articles. The scope of this journal includes: (1) language studies, (2) literary studies, and (3) language and literature learning.
Language studies, including: phonology, morphology, syntax, semantics, pragmatics, discourse analysis, psycholinguistics, sociolinguistics, critical discourse analysis, and applied linguistics.
Literary Studies, including: local literature studies, Indonesian literature, foreign literature studies, children literature, literature studies for character education, and other literary studies.
Language and Literature Learning, including: curriculum development, learning methods, learning materials, learning media, assessment, Indonesian language learning across curricula, information and communications technology in Indonesian language learning, language skills, classroom action research, and research and development.
View Journal | Current Issue | Register
1 - 1 of 1 Items